PowerBuilder 2019*
Customer Beta Program
Beta 1 Jan. 03 – Feb. 20
Beta 2 Feb. 21 – Mar. 21
* Originally named as PowerBuilder 2018
Schedule & Features
Schedule
January 3 – February 20
Features
The first beta will include only the features of the PowerBuilder 2019 Standard edition.
* All PowerBuilder 2017 customers, regardless of edition purchased, will be able to test all the features available in this version.
Schedule
February 21 – March 21
Features
The second beta will include all the features of PowerBuilder 2019 (i.e. Standard, Cloud, and Universal editions). It will also incorporate some fixes and enhancements since the first beta.
* PowerBuilder 2017 customers will be able to test the features available in their purchased edition. For example, a Cloud or Universal edition subscription level is required to test the C# Web APIs.
Spring 2019 (the GA date is currently scheduled to be announced on March 22, 2019)
PowerBuilder 2019 Highlights
The Standard edition of PowerBuilder 2019 (Beta 1) improves your application's user interface in a codeless fashion and further simplifies the development of RESTful DataWindows. The Cloud edition of PowerBuilder 2019 (Beta 2) brings C# Web API development to PowerBuilder with the productivity that is the hallmark of PowerBuilder. A C# migration solution (framework and tools) is also provided so you can leverage existing assets.
Standard Edition Highlights
UI Themes
With PowerBuilder's UI Themes, you can instantly bring a modern look and feel to your application without any significant code changes (in most cases). By default, it comes with 3 pre-built themes: Flat Design Blue, Flat Design Grey, and Flat Design Silver. You can also customize these UI themes by editing the corresponding JSON file, which is similar to working with CSS, or create your own UI theme.
DataWindow JSON Retrieve/Update
The RESTClient will power your DataWindows with RESTful Web API data sources (in JSON data format), no matter your DataWindows are reports or have full CRUD functionality. All you need to do is write just a few lines of code. The RESTClient also supports popular access tokens (OAuth 2.0 or JWT) in case the RESTful Web APIs you are calling requires this more secure form of authentication.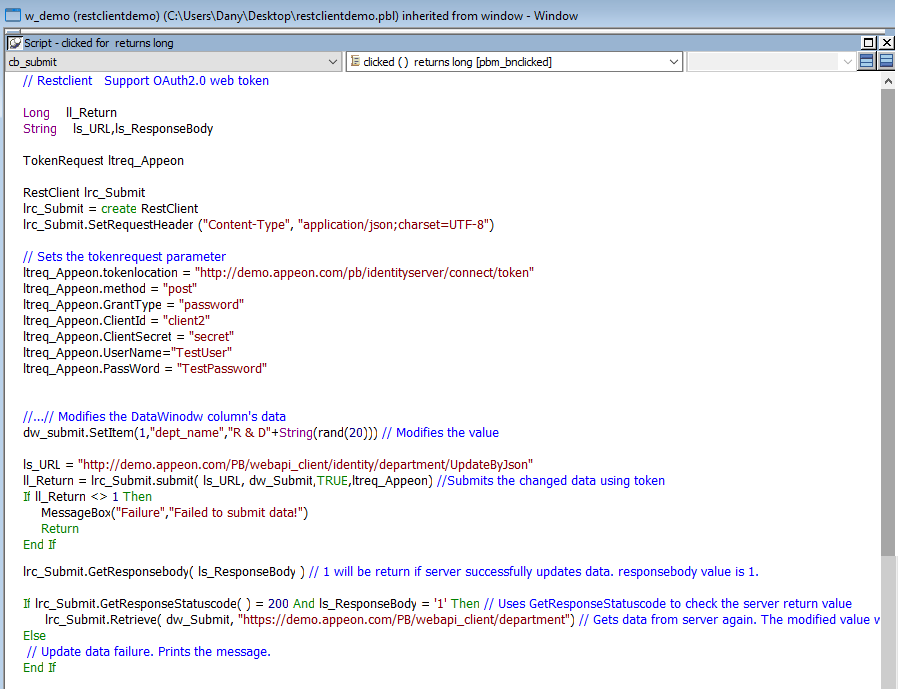 DataWindow Large Dataset Handling
The RESTClient handles DataWindows with very large datasets efficiently in terms of both bandwidth and performance. Specifically, the RESTClient supports and will automatically handle a resultset that is compressed. It also supports submitting minimally-required data (i.e. submit only the changed data) to the RESTful Web API.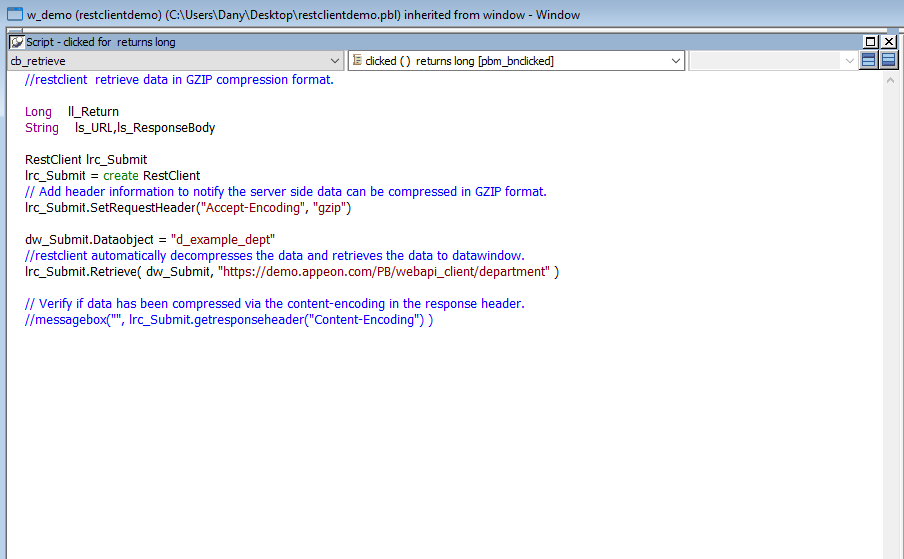 Benefits
Be the first to try revolutionary new features like UI themes and rapid C# Web API development.
Work closely with the Appeon tech staff to resolve any showstopper issues before the product is generally available (GA).
Influence the feature enhancements of the upcoming revisions of PowerBuilder 2019.