Symptom
Try logging into PowerBuilder/InfoMaker with your username and password but get the error message "Cannot find a valid license." after clicking the Log In button.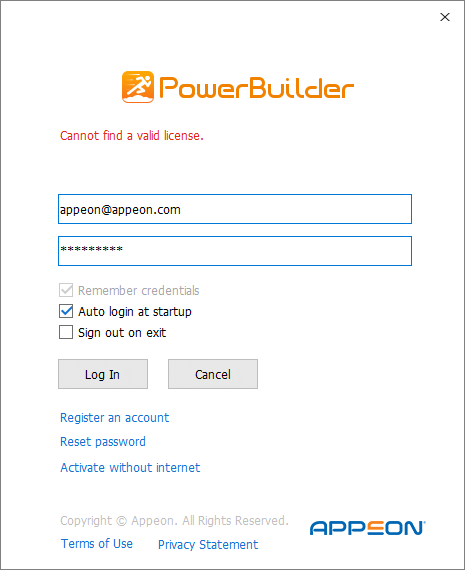 Environment
PowerBuilder
InfoMaker

Cause
1. No license is assigned to this account.
Note: After a user successfully placed an order, this user becomes the license owner/administrator of all licenses in this order, and this user still needs to further assign a license to themselves before they can log into PowerBuilder/InfoMaker.

2. The license assigned to this account is not currently valid.
Note: The PowerBuilder/InfoMaker license is only valid within its Valid Period. For example, if today is 2022-01-01 but the license's valid period is 2022-02-01 to 2023-02-01, then it will not be valid to use until 2022-02-01.

3. The license assigned to this account is an offline license.

Resolution
1. If you don't have a currently valid license, please ask your license administrator to assign one to you referring to How to assign a license.
2. If you have an offline license, please follow Activate with an offline license.