The Architecture of Installable Cloud Apps
Config & Deploy – Once you configured a PowerServer profile, the compiler will automatically generate an Installable Cloud App for you, including its REST APIs and client installer.
Supported Features – Powered by the PBVM, the Windows native client can directly support almost all PowerBuilder features, including PFC. Only a handful of features are not supported.
Same UI/UX – The converted app looks & works the same as the original PowerBuilder app. No need to retrain the end users or dumb down your app.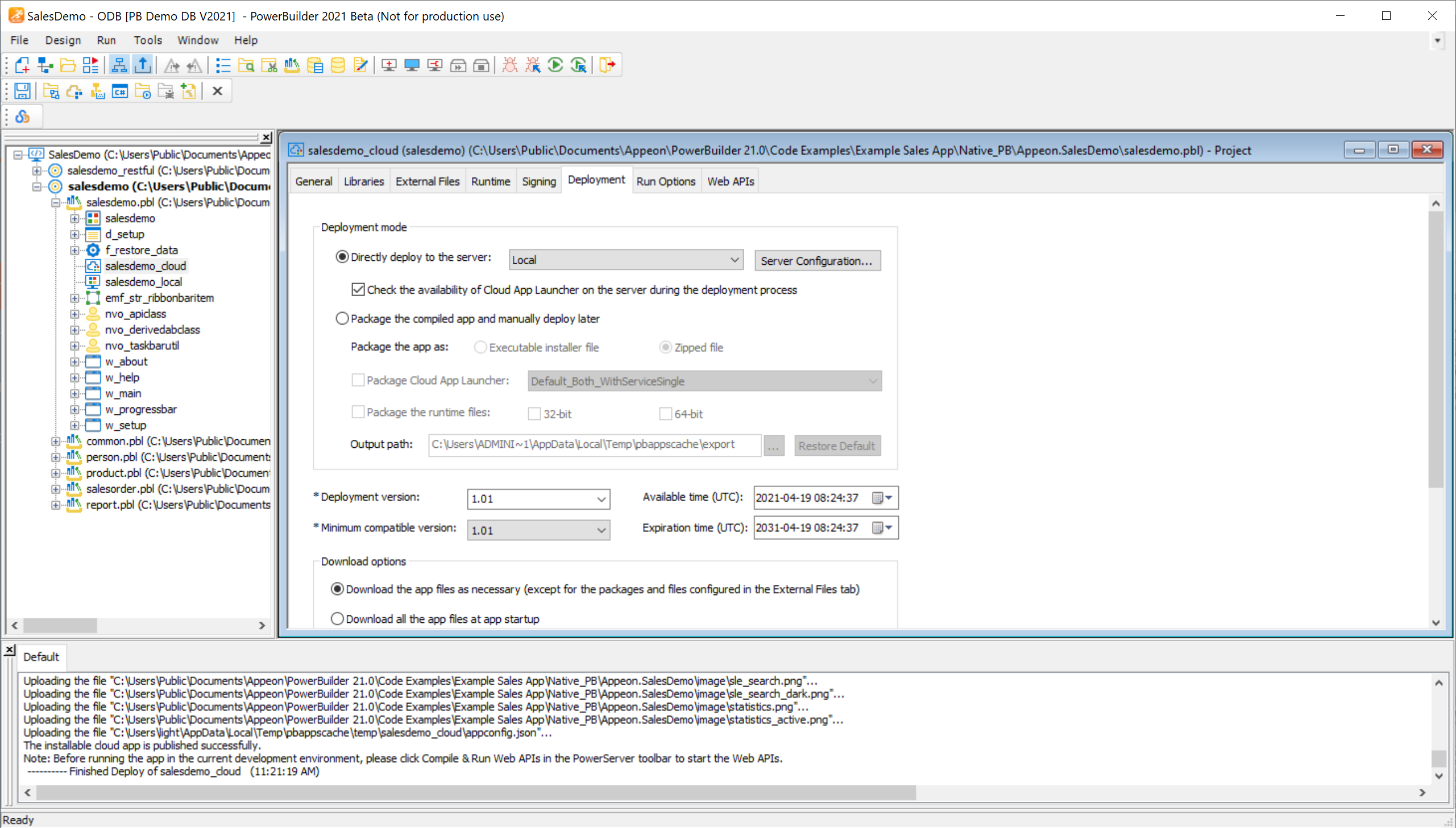 Seamless Install – Installs seamlessly to Windows devices without admin rights by simply clicking a hyperlink or entering the URL. It can also be pre-installed as an .MSI.
Self-Updated – The client app will automatically & incrementally update itself each time it is started. No additional steps or user intervention are required.
Shortcut Creation – Desktop and Start menu shortcuts can be automatically created for more convenient access to starting the app.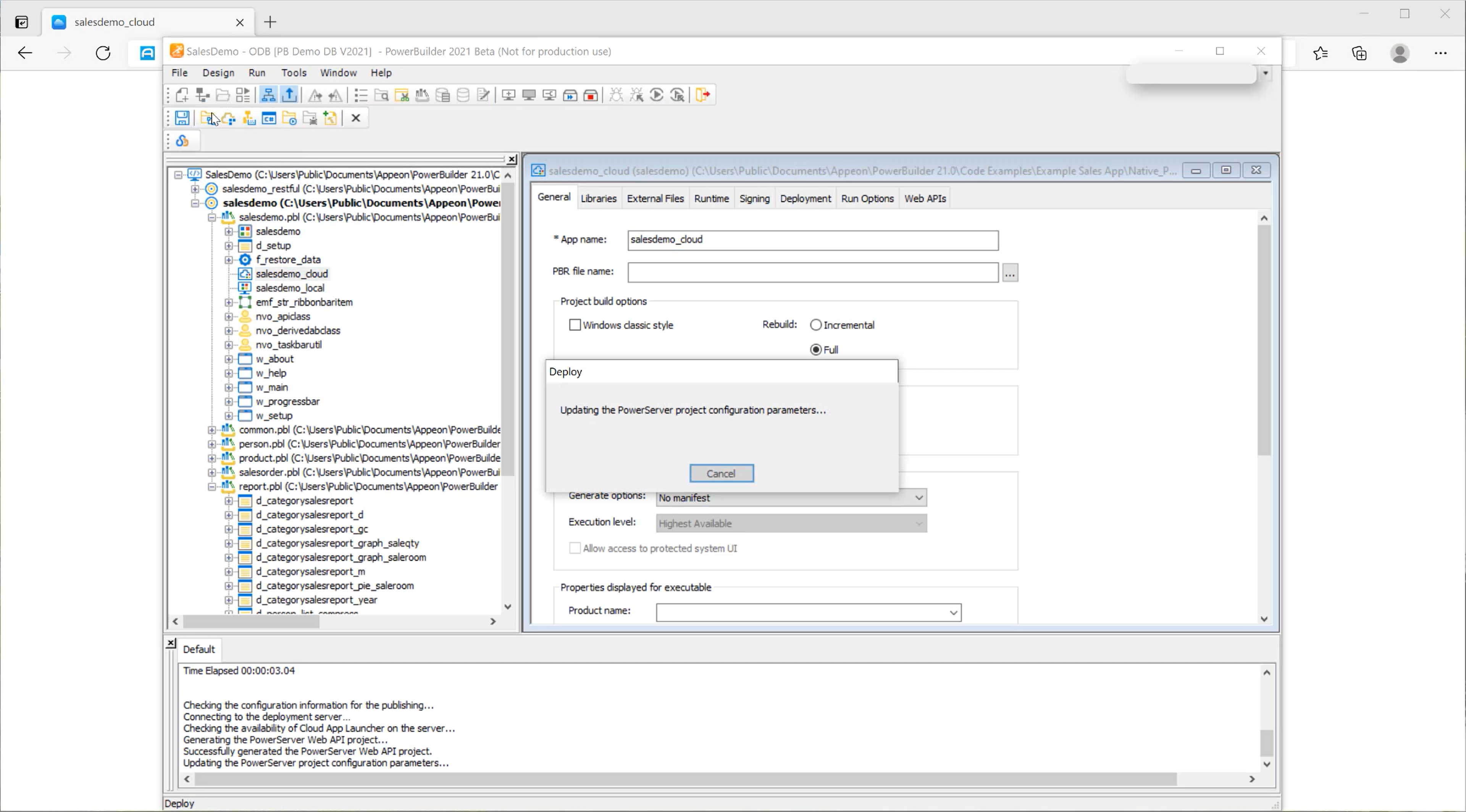 Authorize Your Access – Developers can secure your apps by implementing authentication/authorization techniques, such as OAuth, SSO, Active Directory, etc. Learn More >
Protected Data Access – All DataWindows and SQLs are executed on the server behind the firewall. The client no longer has direct access to the database, and communication to the Web server is over HTTPS.
Built-in Security – With a few configuration steps you can deter unauthorized modification of your app through app encryption, app signing, and app integrity checking. Learn More >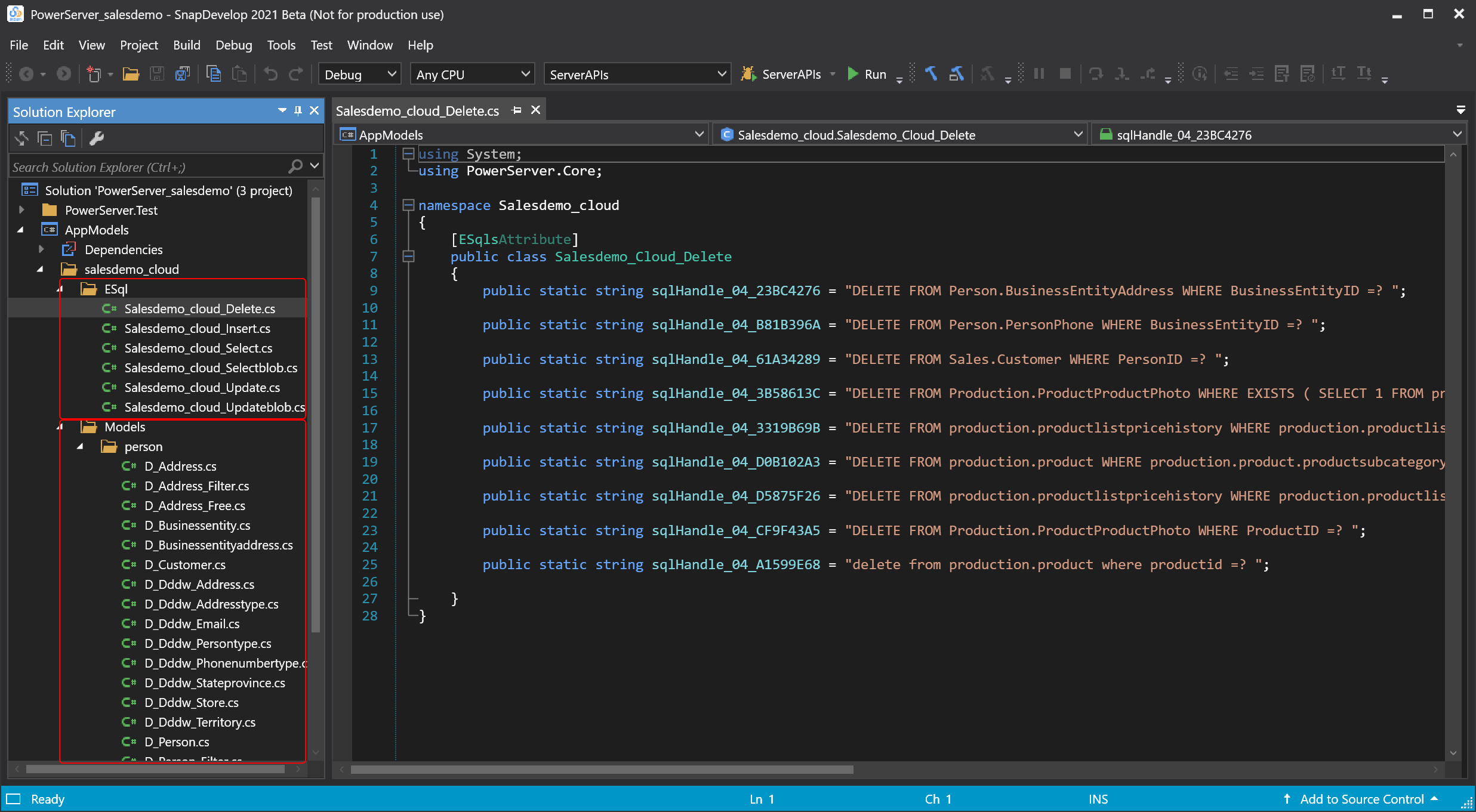 Flexible App Deployment – You can deploy a PowerServer project to the server by either directly deploying from PowerBuilder, installing a portable package, or using CI/CD tools.
DevOps – PowerServer supports leading source control systems, automated building, and CI/CD tools, to make your development more agile and comply with DevOps requirements.
Container Technology – PowerServer's cloud-native architecture means you can take full advantage of the Cloud, including leveraging container technology to simplify your app deployment and automatically scale up/down server resources as necessary.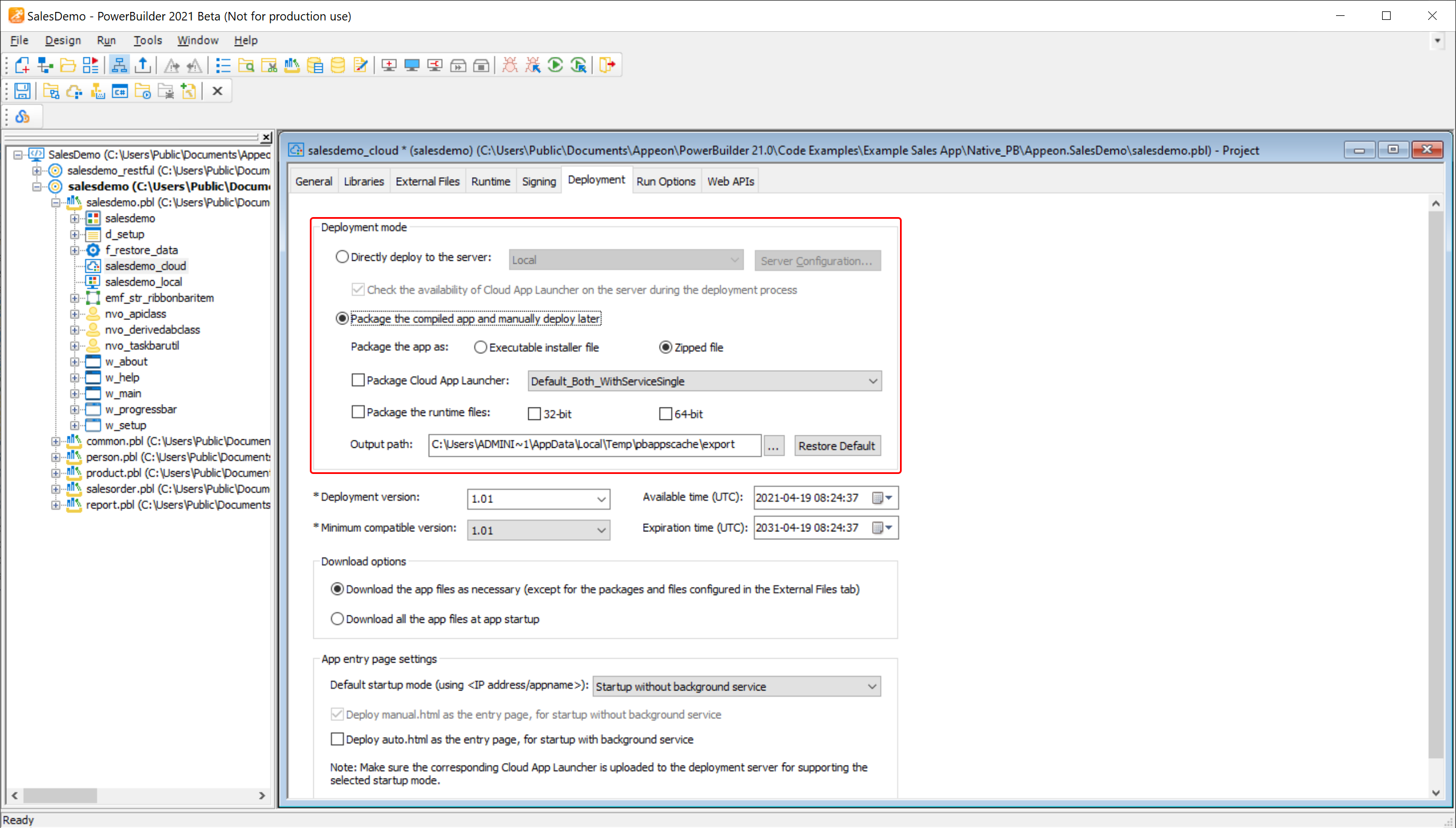 PowerBuilder Skills – You maintain your apps primarily within the PowerBuilder IDE. The only C# coding required is securing the generated REST APIs, which is implemented only once per app.
Open Design – All generated C# code follows an open design. You can view, modify, and easily extend the server-side project. You can even programmatically access the internal APIs of PowerServer (available in GA).
Reuse DataWindows – You can easily share converted DataWindows with non-PowerBuilder apps via REST APIs. In fact, the included SnapDevelop toolset can automatically create these REST APIs for you.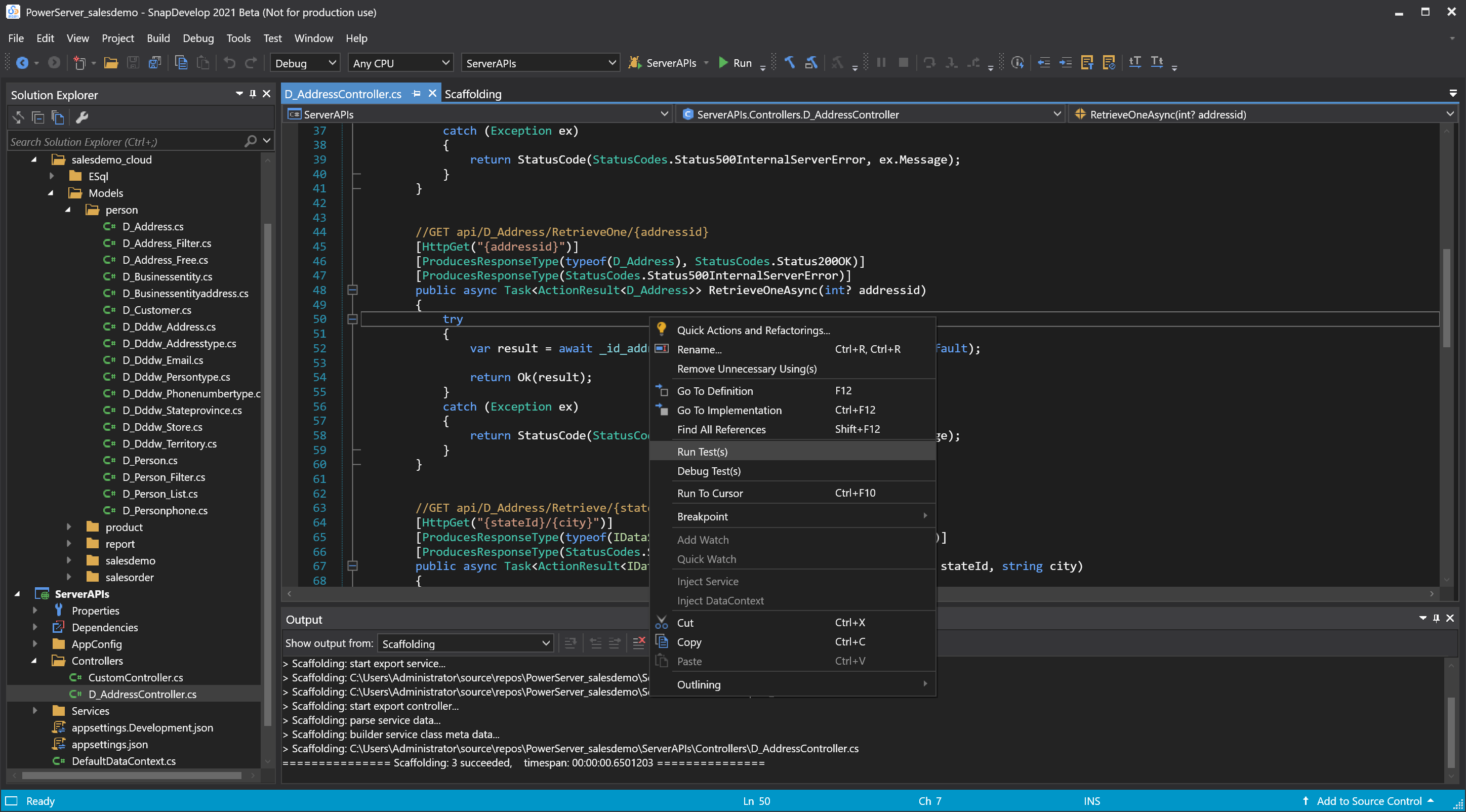 5 Steps to Convert a Client/Server App
Step 1 – Config the PowerServer Profile in the PowerBuilder IDE.
Create the PowerServer Profile and follow the instructions to make the whole application ready to deploy.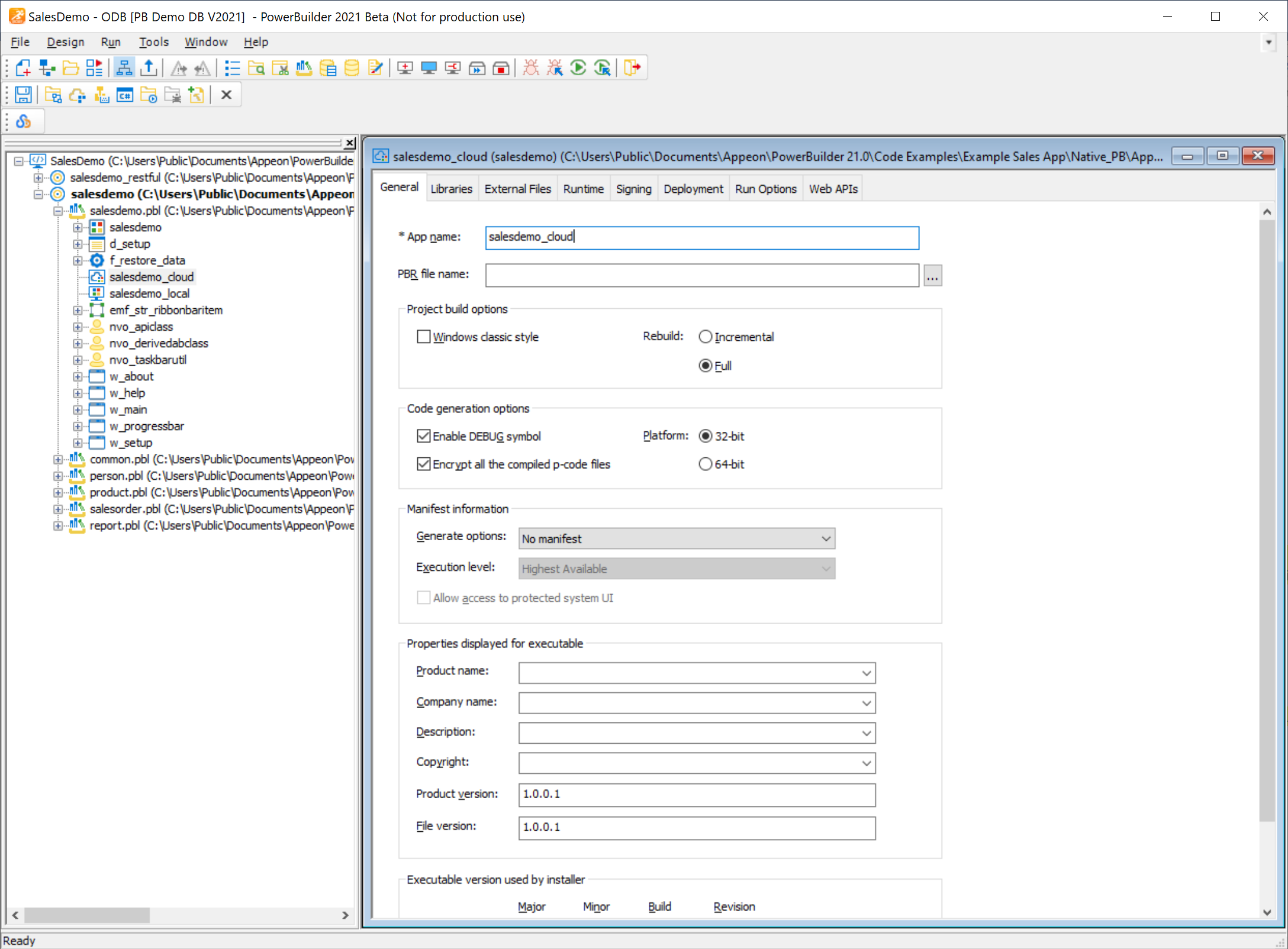 Step 2 – Remediate unsupported features & discrepancies, if any.
Only a handful of unsupported features and discrepancies. Use the built-in tools to identify these issues and remediate by removing or working around them.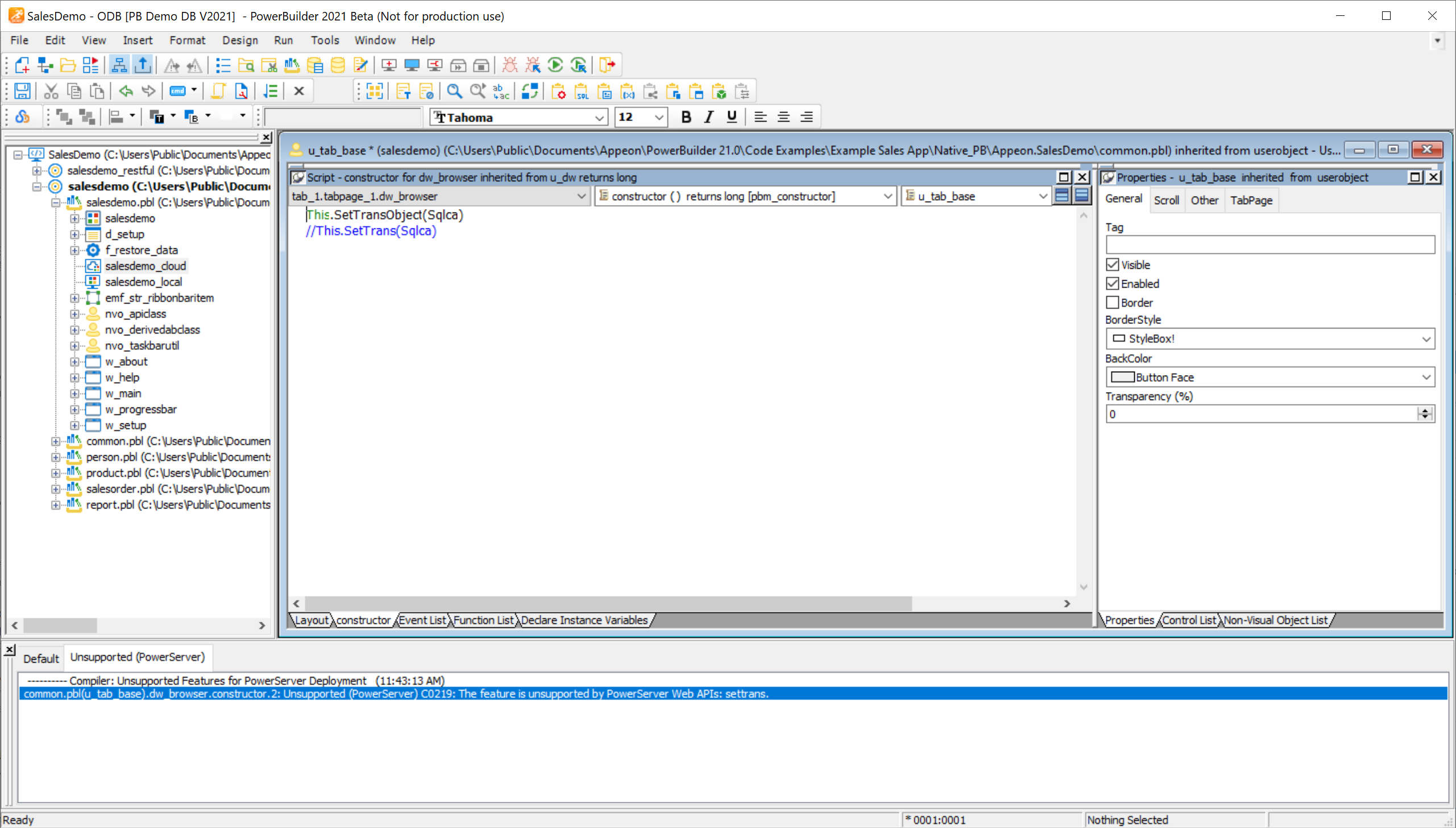 Step 3 – Build & test the app in the development environment.
Properly test your app with various tools and deploy it to your development environment. The deployment process will be further tuned in the GA release.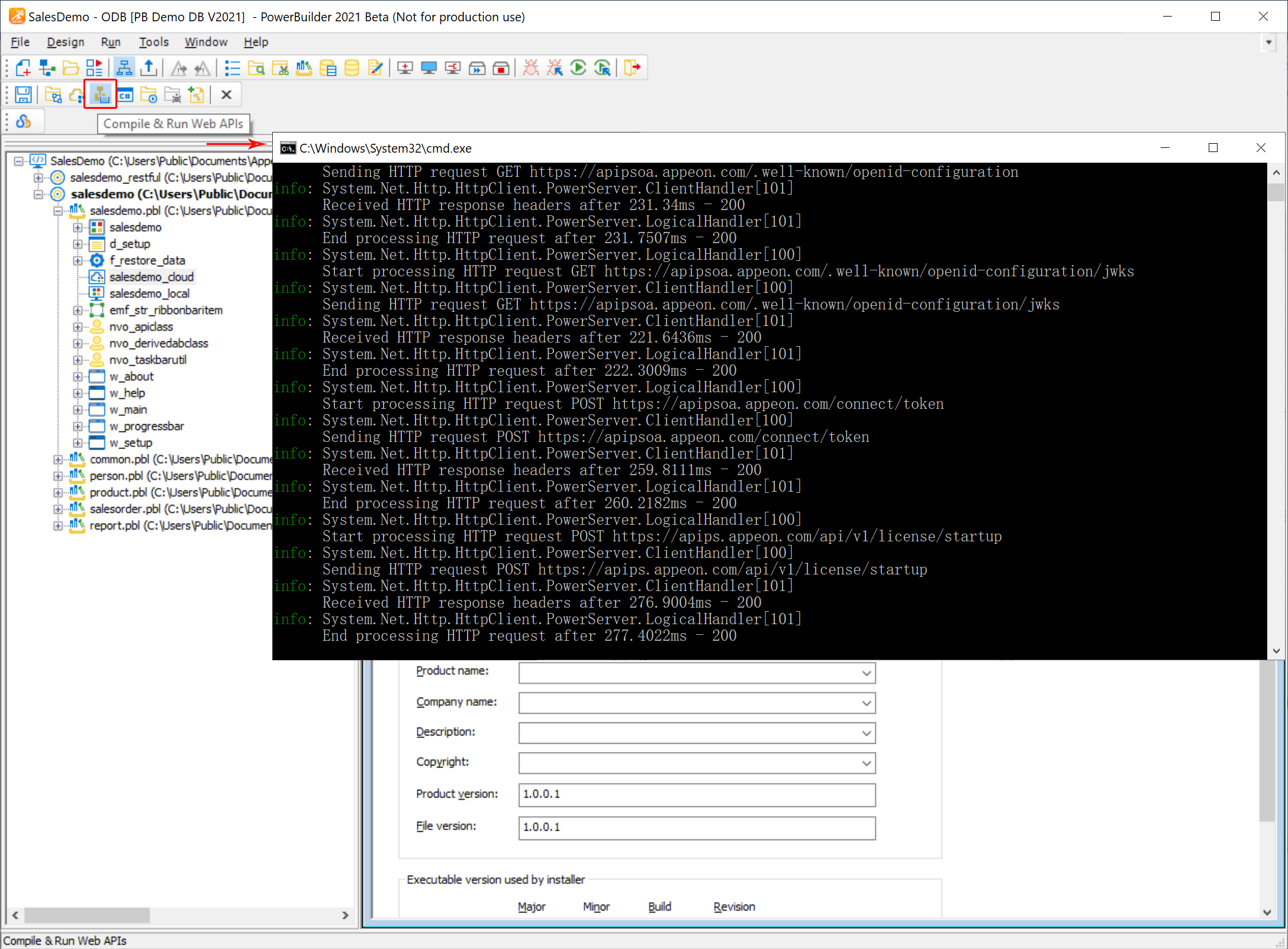 Step 4 – Secure the generated REST APIs with OAuth or JWT tokens.
You can follow the provided example to secure your REST APIs using OAuth or JWT, or implement your own more elaborate security schemes.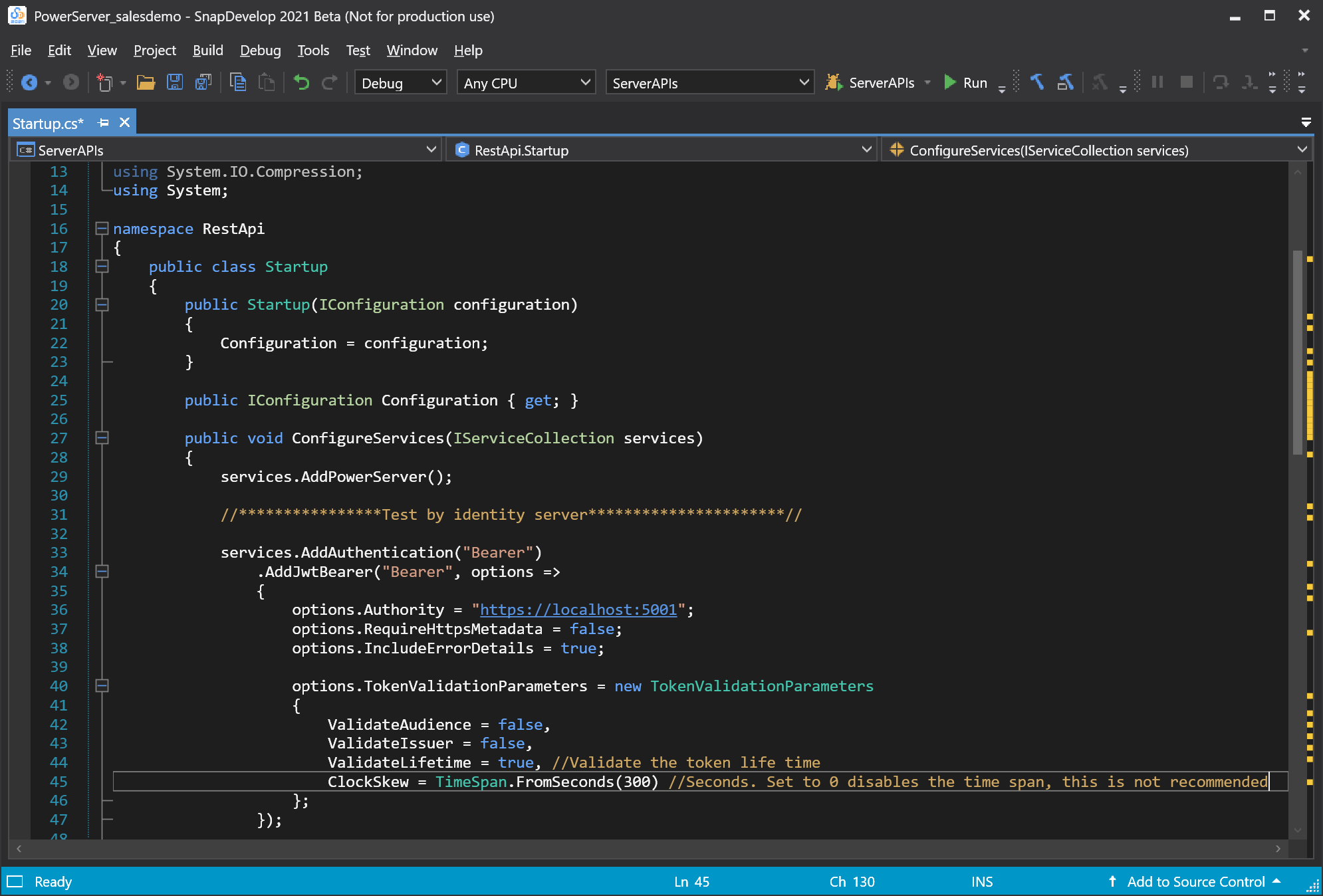 Step 5 – Deploy the tested and secured app to the production environment.
The deployment process will be further enhanced in the GA release.
Create an installable package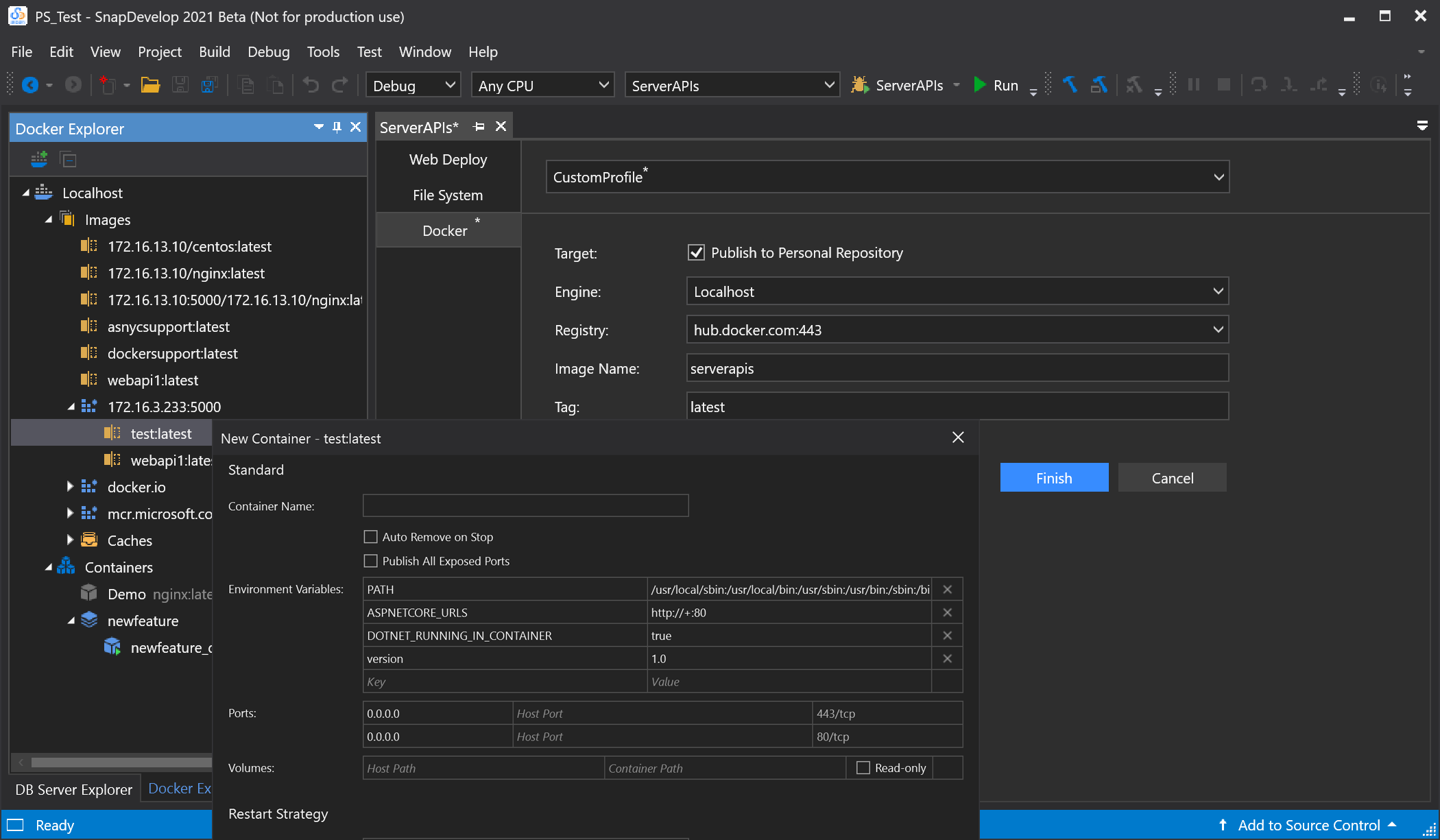 Pricing
Development Licenses
Bundled with PowerBuilder CloudPro
Production Licenses
From 150 to Unlimited User Sessions
$3,500-12,500
User Session ∙ Year
FAQs
PowerServer is compatible with Windows 10 devices, such as desktops, laptops, and Surface tablets. MacOS, iOS, and Android devices are not supported. If you need to support iOS/Android devices, you can use the SnapDevelop toolset to rapidly expose existing DataWindows as REST APIs, which can be consumed by most mobile UI frameworks, such as React, Xamarin, and Flutter.
PowerServer is compatible with PowerBuilder 2021 (CloudPro) and newer. If your app is currently in an older version of PowerBuilder, it is usually little to no work to upgrade to the latest version of PowerBuilder. Generally speaking, upgrading from PowerBuilder 10.x or newer should require no code changes.
PowerServer supports most leading databases, including MS SQL Server, Oracle, SAP SQL Anywhere, SAP ASE, etc. Learn More
PowerServer utilizes a cloud-native architecture rather than running multiple instances of a client/server application. Its cloud-native architecture is built on ASP.NET Core, has a pre-dominantly stateless design, is REST API-enabled, deploys natively to cloud platforms, and so on. As such, PowerServer offers much higher scalability, much stronger security, much greater interoperability, and eliminates the typical limitations and headaches of remote desktop/VDI.
While PowerServer executes data access logic on the middle tier using C# and ADO.NET, it is not a code conversion solution. If you want to migrate your code to C#, we recommend you try the PowerScript Migrator.
PowerServer 2021
The absolute fastest way to take your client/server application to the Cloud with a cloud-native architecture.